On April 15, 2021, an online meeting was held to present the Rotterdam Living Lab to various stakeholders from the region. The Living Lab of Rotterdam is one of six living labs participating in the European project SmartCulTour, funded by the European Commission under the H2020 program. The aim of the living labs is to encourage networking between tourism stakeholders in order to develop best practices and innovative solutions for sustainable cultural tourism, which can also be exchanged with other European regions.
In collaboration with city marketing organization Rotterdam Partners, people who in their daily work or life are involved with tourism, events and leisure but also for example with urban planning, were invited to the 'inception meeting'. Theater Zuidplein, Rotterdam Festivals, the municipality of Rotterdam and IFFR, among others, were present at the online session. With a total of 15 participants, the online meeting started with a fun warm-up exercise: «By using your Microsoft Teams background, show us what you mean by cultural tourism in Rotterdam. ''This resulted a diverse range of colorful backgrounds and also provided a nice opening discussion where the various participants heard from each other what Rotterdam Cultural Tourism means to them.
Next, Ko Koens and Bert Smit of Breda University of Applied Sciences explained SmartCultour and the use and necessity of living labs. Ko Koens: «For a living lab to be successful, it is necessary to have the right participants at the table who know about opportunities, possibilities and problems in neighborhoods and also have knowledge of tourism, culture, urban development and infrastructure. We can't wait to get to work with you in an interactive and fun way in the near future.»
To suit the action to the word, the next part of the meeting was to create a mood board in the app 'mural'. The participants of the meeting were challenged to make a collage with photos that for them represented Rotterdam's cultural tourism. Interesting boards emerged, which were compared and discussed with each other a little later. For example, the participants noted that the photos previously selected by the lab managers and project leaders lacked, among other things, maritime culture, which is so important to Rotterdam. In addition, the participants came to the conclusion that the 174 nationalities that Rotterdam abounds also determine the cultural tourist image of Rotterdam.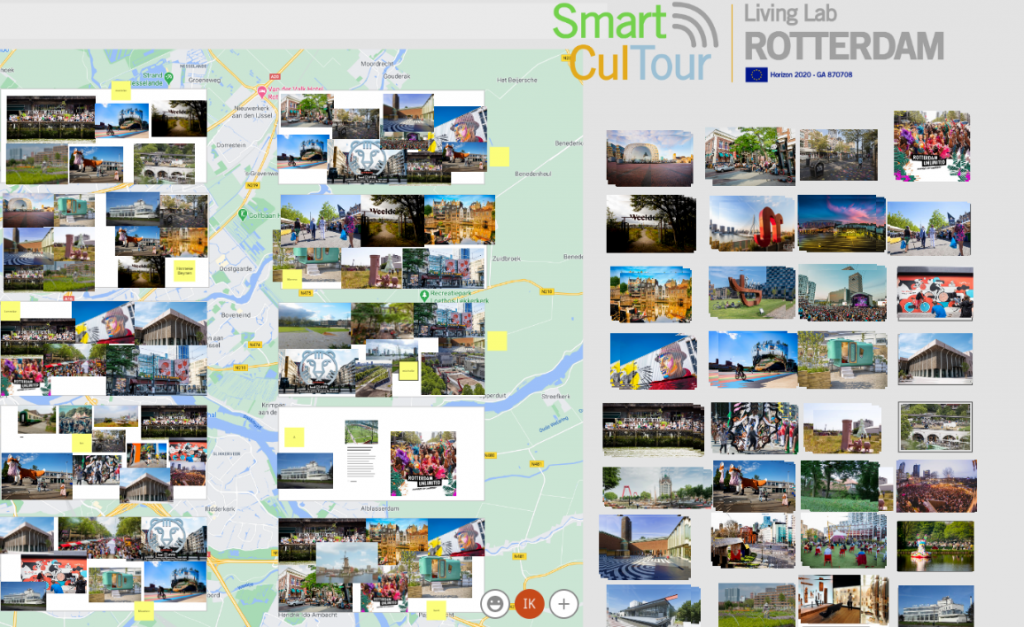 Finally, interesting interventions in the field of cultural tourism from other cities were shared. See for example the image below taken in Den Bosch during the Jheronimus Bosch year in 2016. The participants will meet again in early June in a design session. The focus will then also be on how tourism vision and strategy become reality in a particular district or maybe even how the reality of the district and the city should lead to a continuously evolving tourism strategy.