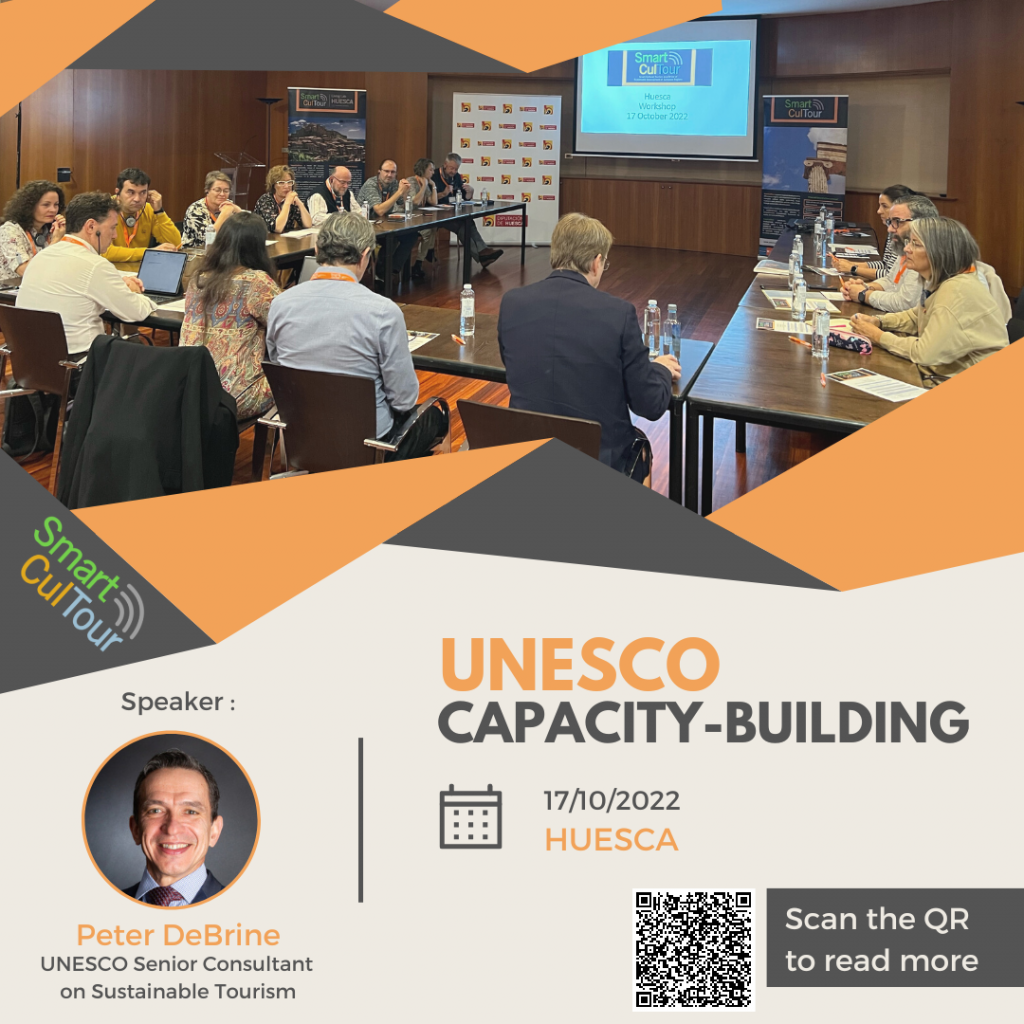 On 17 October 2022, within the framework of UNESCO's capacity-building programme on sustainable cultural tourism destination management for the benefit of the SmartCulTour Living Labs. The Huesca LL met with Peter Debrine, Senior Consultant to UNESCO on Sustainable Tourism. The workshop was held at the "Diputación Provincial de Huesca", with 15 participants from the Huesca tourism sector representing local tourism promotion agencies, government delegates, entrepreneurs and tourism and cultural operators.  
The event opened with welcoming remarks by Alun Jones, Head of the Project Office of CIHEAM Zaragoza, and Costanza Fidelbo, Assistant Project Officer at the Culture unit of the UNESCO Regional Bureau for Science and Culture in Europe (Venice, Italy).
Participants benefited from the comprehensive training on new approaches and strategies for sustainable tourism promotion. In particular, Peter Debrine provided insights into the Destination Management Approach and the integrated benefits deriving from its use, particularly when transversally embedded into cultural tourism interventions.
Participants co-designed innovative cultural tourism routes across the region through tailored storytelling, to boost local tourism promotion. As a result, the 3 groups presented different yet interconnected cultural tourism itineraries that illustrate the complexity of destination thinking as well as its potential positive impact.
It is evident from Post-COVID that tourists are continuously seeking authentic, sustainable experiences. Therefore, selecting and communicating the right messages are crucial to the strategic development of the entire sector and can help make a destination «desirable».
The workshop also supported participants in drafting a tourism promotion strategy inspired by the destination approach. This strategy incorporated unprecedented cultural narratives and innovative ways to communicate them through digital media and marketing.
Participants in the UNESCO capacity-building workshop have inspired and developed an entrepreneurial vision. Understanding how tourism can be more sustainable and strengthen ties between tourists, nature and local culture through their collective efforts.
We are grateful to Peter Debrine for such an enriching training opportunity. To UNESCO for tirelessly perpetuating its vital mission, including upholding sustainable forms of culture-based tourism and to all the participants.