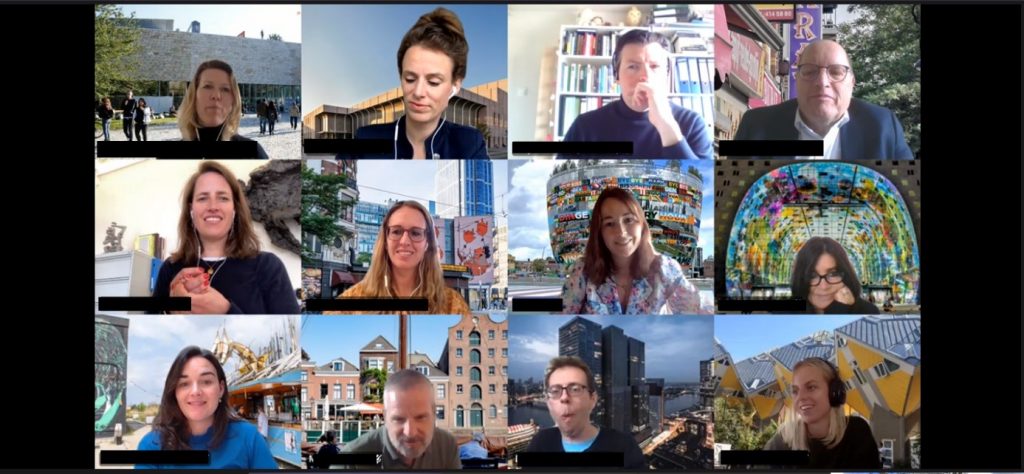 Op 15 april 2021 werd een online bijeenkomst gehouden om het Living Lab van Rotterdam te presenteren aan verschillende stakeholders uit de regio. Het Living Lab Rotterdam is een van de zes living labs die deelneemt aam het Europese project SmartCulTour, dat door de Europese Commissie wordt gefinancierd in het kader van het H2020-programma. Het doel van de living labs is het aanmoedigen van netwerken tussen belanghebbenden uit het toeristische werkveld om zo tot goede praktijken en innovatieve oplossingen voor duurzaam cultureel toerisme te komen, die tegelijkertijd ook kunnen worden uitgewisseld met andere Europese regio's.
In samenwerking met citymarketingorganisatie Rotterdam Partners werden voor de 'inception meeting' personen uitgenodigd die in hun dagelijkse werk of leven te maken hebben met toerisme, evenementen en leisure maar ook bijvoorbeeld met stedelijke planning. Zo waren onder andere Theater Zuidplein, Rotterdam Festivals, Gemeente Rotterdam en IFFR aanwezig bij de online sessie. Met totaal 15 participanten ging de online meeting van start met een leuke opwarm oefening: ''Laat aan de hand van je Microsoft Teams achtergrond zien wat jij onder Rotterdams cultureel toerisme verstaat.'' Dit leverde een divers palet aan kleurrijke achtergronden op en zorgde daarnaast ook voor een mooi openingsgesprek waar de verschillende participanten van elkaar hoorden wat Rotterdams cultureel toerisme voor hen inhoudt.
Vervolgens gaven Ko Koens en Bert Smit van Breda University of Applied Sciences een uitleg over SmartCultour en de nut en noodzaak van living labs. Ko Koens: '' Om een living lab te laten slagen is het noodzakelijks om de juiste deelnemers aan tafel te hebben die kennis hebben van kansen, mogelijkheden en problemen in wijken en daarnaast kennis hebben van toerisme, cultuur, stadsontwikkeling en infrastructuur. We kunnen niet wachten om de komende tijd met jullie op een interactieve en leuke manier aan de slag te gaan.''
Om de daad bij het woord te voegen was het volgende onderdeel van de meeting het maken van een moodboard in de app 'mural'. De deelnemers van de meeting werden uitgedaagd om een collage te maken met foto's die voor hen Rotterdams cultureel toerisme vertegenwoordigden. Er ontstonden interessante borden, die even later met elkaar werden vergeleken en besproken. Zo merkten de deelnemers op dat op de foto's die eerder waren geselecteerd door de labmanagers en projectleiders onder andere de maritieme cultuur, die juist zo belangrijk is voor Rotterdam ontbrak. Daarnaast kwamen de deelnemers tot de conclusie dat de 174 nationaliteiten die Rotterdam rijk is juist ook het cultureel toeristische beeld van Rotterdam bepalen.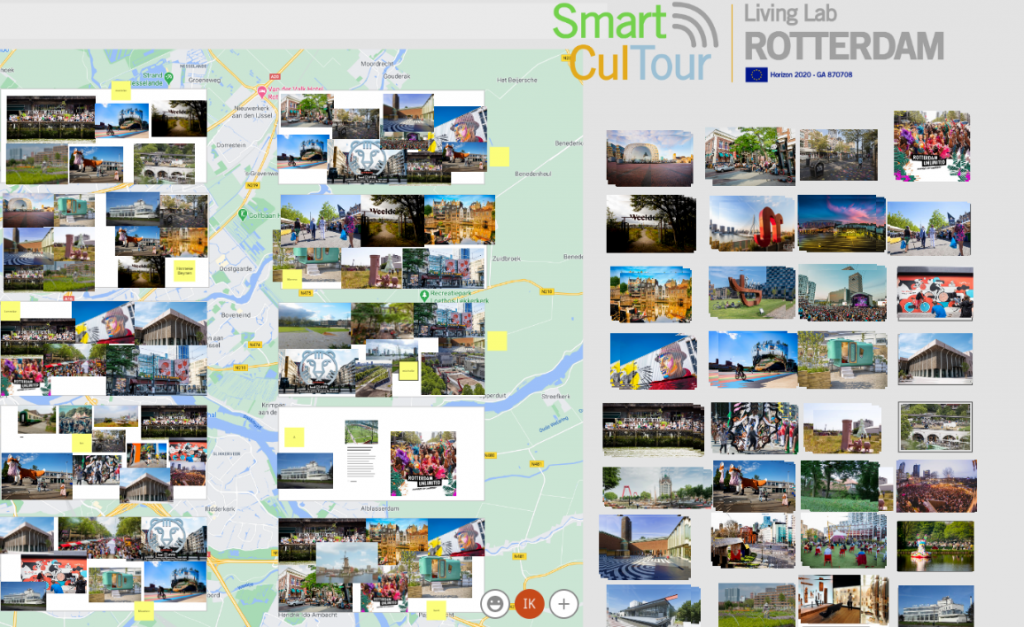 Tot slot werden interessante interventies op het gebied van cultureel toerisme uit andere steden gedeeld. Zie bijvoorbeeld onderstaand afbeelding die genomen is in Den Bosch tijdens het Jeroen Bosch jaar in 2016. De deelnemers komen begin juni weer bij elkaar in een ontwerpsessie. De focus ligt dan ook op hoe toeristische visie en strategie werkelijkheid worden in een bepaalde wijk of misschien juist wel hoe de werkelijkheid van de wijk en de stad zou moeten leiden tot een zich continu ontwikkelende toerisme strategie.