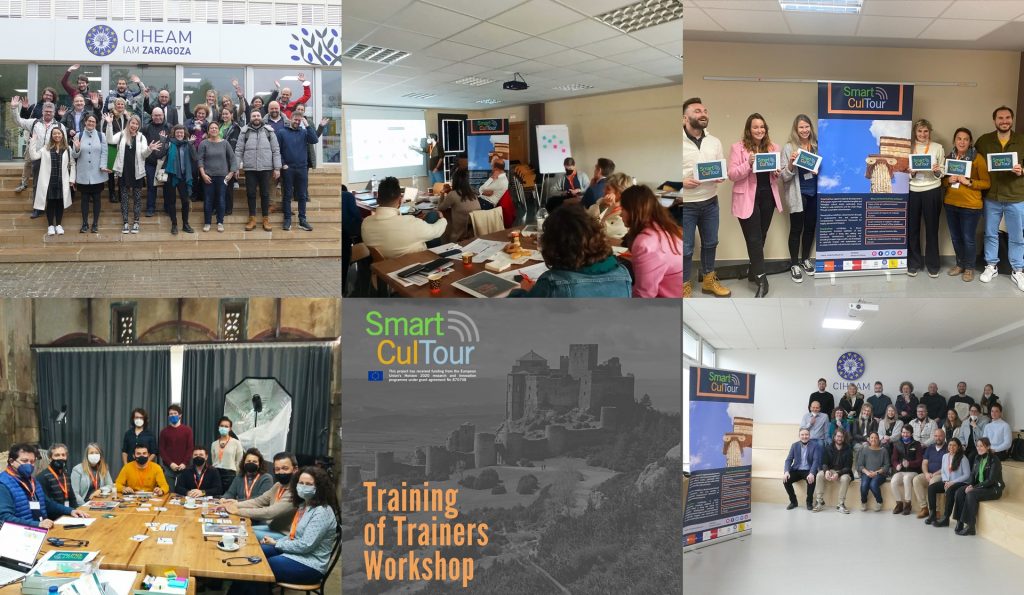 The training took place in Loarre's Town Hall on 17 March with researchers and experts from Austria, Belgium, Croatia, Finland, Italy, the Netherlands and Spain. Representatives of different counties of Huesca took part in a parallel training session to test a tool designed to boost sustainable tourism in the province.
The SmartCulTour project, Smart Cultural Tourism as a Driver of Sustainable Development of European Regions, has organized an internal capacity-building event for representatives of the project's six Living Labs to test creative tools to boost the tourist sector in each of the regions. The training was organized in two working sessions, one in the town of Loarre on 17 March and another on 18 March at CIHEAM Zaragoza. Participants came from Belgium, Finland, Croatia, Italy, Austria and Spain.
The aim of the first session was to provide the project's partners with context about the tourist sector in Huesca. They worked on tools to favour engagement of stakeholders related to the tourist sector that would enable them to promote their area from a more emotional perspective, linking their past, present and future to their territory.
The second session was held at CIHEAM Zaragoza. Participants worked on methodologies to help territorial managers improve their decision-making by addressing initiatives that would cover the needs identified for development in European regions – including the province of Huesca – as sustainable cultural tourism destinations.
A parallel session was organized on 17 March for representatives of different counties, public entities, and businesses in the province of Huesca who did a pilot test of the SmartCulTour Game, one of the project outcomes expected to have the biggest territorial impact. The idea is to use the serious game approach to draw up policies and engage stakeholders, and at the same time learn about cultural tourism and potential interventions to make cultural tourism more sustainable for local communities, the environment and the business sector.
This training event lies within the activities of the SmartCulTour project, which aims to promote territorial development through sustainable cultural tourism. This model of tourism requires a redefinition of the classical cultural tourism, considering new demands derived from sustainability and the need for supply and demand metrics and impact assessment. The project intends to review theories and make an empirical validation of good practices in the natural surroundings and seek closer collaboration between the local stakeholders, facilitating the development of joint strategies and creating sustainable cultural tourism experiences.