The second working meeting of the Huesca Living Lab was held on 13 May 2021. The main objective of the session was for participants to contextualize the tourist sector in Huesca and set the scene for the development of a common work strategy to strengthen the sector in the province. A total number of 17 members of the Living Lab participated in the session representing, among others, public administration and territorial management, the agriculture and food sector and the environment.
The participatory methodology was followed, using online tools to facilitate the implementation of different dynamics. The session's original agenda was:
10:00   Introduction – Aims and methodology of the meeting
10:05   Rapid guide on Miro
10:15   Round of introductions
10:35   Dynamic 1: SWOT Analysis (Strengths, Weaknesses, Opportunities and Threats). 30 minutes
11:05   Dynamic 2: Identification of priorities and needs for the LL. 30 minutes
11:35   BREAK
11:45   Dynamic 3: Sharing good practices. 30 minutes
12:15   Dynamic 4: Identifying opportunities. 30 minutes
12:50   End of session – Conclusions and next steps.
The session had a dynamic pace and active participation from start to finish. The concepts of sustainability, tools, learning and co-creation emerged as key words in relation to the expectations of the Living Lab.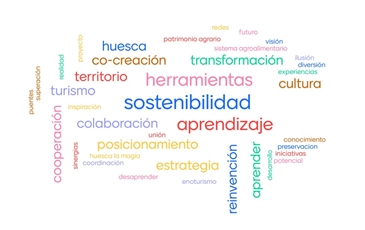 Al final de la sesión se marcó la ruta a seguir y contenidos de las siguientes sesiones de trabajo a lo largo de 2021, donde se identificarán iniciativas de éxito, bien del propio territorio o bien de otros países, con el objetivo de que sirvan como referencia para impulsar el sector en Huesca.
The following dynamics enabled debates and discussions highlighting the importance of creating networking and cooperation spaces such as those generated in the project. Participants expressed particular interest in working with the other Living Labs of the project to learn about and share the concerns and methodologies in the tourist sector.  Huesca  Living Lab is characterized by having a rich diversity of resources and tourist attractions but also faces significant challenges such as rural depopulation, climate change and the new social paradigm caused by the current health crisis.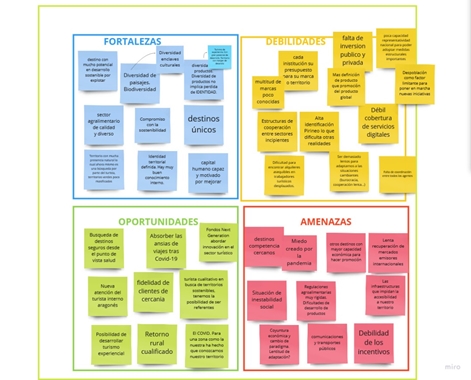 At the end of the session, the itinerary was marked out for the continuation of activities as well as the contents for the following working sessions to be held throughout 2021, where succussful initiatives will be identified either from the home territory or other countries, which serve as a point of reference from which to boost the sector in Huesca.